Every Successful Bank Insurance Program 
Begins With The First Step
Shortly before D-Day, meteorologists forecast the likelihood of storms in the English Channel. Faced with the risks of delaying the planned Normandy invasion and the risks of bad weather ruining the Channel-crossing and troop landing, General Dwight Eisenhower, made the ultimate life-and-death decision. He concluded simply, "OKAY, WE'LL GO."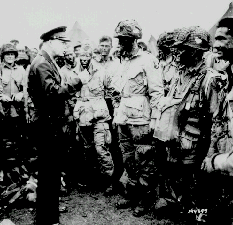 General George Patton expressed the same sentiment this way: 

"Don't delay ...
A good plan executed now
is better than
a perfect plan next week."

Like generals, banks must identify all their resources, harness them, and then use them.
No matter how worthy the financial findings and strategic-planning recommendations of The MWA Bank Insurance Economic Assessment Report™, banks must ACT on them in order to produce top-line revenue and bottom line profits.
No matter how clearly plans for implementation are charted in an MWA-developed strategic plan, they have no value unless the bank ACTS on them.

If you are interested in the potential
for bank insurance sales,
MWA encourages you to ACT today.

TO REQUEST MORE INFORMATION EMAIL