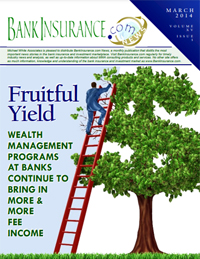 BankInsurance.com News is a monthly electronic publication that distills the most important news stories in the bank insurance and investment marketplace.
Written and published by Michael White Associates and delivered digitally via email, BankInsurance.com News is a streamlined and targeted source of news and events that directly impact financial institutions, insurance companies, agencies, broker-dealers, and the other businesses that provide products and services to the bank insurance and investment world.
Distributed in a beautiful full-color electronic PDF format, BankInsurance.com News is a dynamic publication possessing concise, concentrated content in a compact format with information-impact and analytic benchmarking you'll not find elsewhere.
Bank insurance, investment brokerage, wealth management.
BankInsurance.com News is about more than just bank insurance. BankInsurance.com News also covers bank investment brokerage, wealth management, and related noninterest fee income activities. All these activities, like the formerly segregated industries they once represented, have converged in the marketplace and in this publication.
Acquisitions, divestitures, fee income earnings.
BankInsurance.com News is the one place you can expect to discover who bought and sold what in the bank insurance and investment marketplace. We also report the quarterly earnings of both the banking industry and dozens of individual banks — earnings from insurance brokerage, wealth management and retail investment programs, including securities brokerage and annuity sales, as well as income from the sale and servicing of mutual funds and annuities. But, we do more than report earnings; we analyze and compare them with our own research findings.
Investment program performance benchmarks and ratings.
Applying findings from our analyses of data from nearly 8,000 banks and 1,000 large bank holding companies, we augment banks' earnings reports using benchmarks of fee income concentration, productivity, and density. Additionally, we rank and rate dozens of programs by their fee income results and compare them nationally, regionally, statewide, and by their asset-peer group.
Alliances, partnerships, global expansion.
BankInsurance.com News covers other events and forces that influence the bank insurance & investment market: international bancassurance acquisitions; domestic and international strategic alliances, partnerships, and joint ventures; and insurers' bank startups. We also provide semi-annual analyses of bank-owned life insurance (BOLI) assets and their impact on bank capital. Alliances, partnerships, global expansion.
Legislation, regulation, litigation.
The bank insurance and investment landscape is shaped by legislation, regulation and litigation. BankInsurance.com News covers critical events like the continuing controversy over federal preemption, optional federal insurance charters, SEC and FINRA actions, lawsuits, regulatory sanctions, and new guidance on products and transactions. And with that coverage, we provide direct links to recently proposed laws and newly enacted regulations relevant to our industry.
To receive your copy of
BankInsurance.com News,
click here to register with BankInsurance.com.

We'll email free regular feature articles, timely email updates about new laws and regulations, and our monthly newsletter with the major daily news stories that may impact your bank insurance initiative.