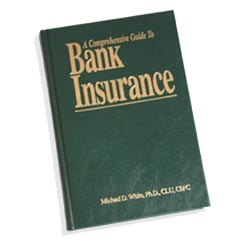 TABLE OF CONTENTS
DEDICATION
ACKNOWLEDGEMENTS
ABOUT THE AUTHOR
LIST OF ABBREVIATIONS
INTRODUCTION
CHAPTER 1: BANKING REGULATION IN THE UNITED STATES
A BRIEF HISTORY OF THE UNITED STATES BANKING SYSTEM
The First Central Bank
The Second Central Bank
The State Banking System
National Banks and the Office of the Comptroller of the Currency
Survival of the Dual Banking System
Creation of the Current Central Bank
Banking Reform in the 1930s
Banking Reform from the 1930s and through the Mid-1980s
Banking Reform Since the Mid-1980s
SYNOPSIS OF FEDERAL AND STATE BANKING REGULATORS
Office of the Comptroller of the Currency (OCC)
Federal Reserve System (FRS)
Federal Deposit Insurance Corporation (FDIC)
Office of Thrift Supervision (OTS)
State Banking Authorities
National Credit Union Administration (NCUA)
CHAPTER 2: FEDERALLY PERMISSIBLE BANK INSURANCE POWERS
MIXED REGULATION OF BANK INSURANCE ACTIVITIES
STATE INSURANCE REGULATION UNDER THE FEDERAL GOVERNMENT
Federalism and the United States Constitution
The McCarran-Ferguson Act
Other Areas of Federal Involvement in Insurance Regulation
Constitutional Federalism and Section 92 of the National Bank Act
PERMISSIBLE INSURANCE ACTIVITIES FOR BANK HOLDING COMPANIES
BHC Domestic Insurance Powers
Exemption A: Sell and Underwrite Credit Life Insurance, Credit Accident and Health Insurance, and Involuntary Unemployment Insurance
Exemption B: Sale of Single Interest Property Insurance by Finance Company Subsidiaries
Exemption C: Sell General Insurance in Towns of Fewer than 5,000 Residents
Exemption D: Grandfathered Insurance Agency Activities Engaged in Prior to May 1, 1982
Exemption E: Supervise Retail Insurance Agents
Exemption F: Small BHCs May Engage in Insurance Agency Activity (Except for Sale of Annuities and Life Insurance)
Exemption G: Grandfathered Insurance Agency Activities Engaged in Prior to January 1, 1971 Pursuant to Board Approval
Judicially Sustained Exemption - Insurance Powers of Subsidiary Banks of BHCs
Exemption 4(c)(1)(C) - A BHC May Act as Agent, Broker, Insurer or Reinsurer for Itself
Section 20 Company Employees May Sell Annuities and Life Insurance
BHC Selling Insurance with Employee Benefits Consulting Services
BHC Foreign Insurance Powers
BHC Selling Insurance Overseas
BHC Underwriting Insurance Overseas
PERMISSIBLE INSURANCE ACTIVITIES FOR NATIONAL BANKS
National Bank "Incidental" Insurance Powers
Sell and Underwrite Credit-Related Insurance
OCC - Sell Crop Insurance
Issue Debt Cancellation Agreements
Lease or Rent Office Space
Rent or Sell Lists and Promote
Make Referrals to Insurance Agents
Act as Agent for the Bank's Own Insurance Coverage
Purchase Corporate-Owned Life Insurance
Reinsure Mortgage Guaranty Insurance
Purchase An Interest in an Insurance Company Separate Account
Contradictory View of Power to Sell and Underwrite Title Insurance
Issue Title Guaranty, Rather Than Title Insurance
Underwrite or Sell Functionally Equivalent "Insurance-Like" Products
Underwrite Municipal Bond Guarantee Insurance
Sell Fixed and Variable Annuities
National Bank Section 92 Insurance Powers
Sell Insurance Anywhere from Places of 5,000
PERMISSIBLE INSURANCE ACTIVITIES FOR FEDERALLY CHARTERED/REGULATED THRIFT INSTITUTIONS
Thrift Insurance Agency Powers
Unitary Thrift Holding Company Underwriting Powers
Savings Bank Life Insurance
PERMISSIBLE INSURANCE ACTIVITIES FOR CREDIT UNIONS
CHAPTER 3: PERMISSIBLE STATE BANK INSURANCE POWERS
ROADBLOCKS AND DETOURS
State Roadblocks: Anti-Affiliation Statutes
State Detours: Exemptions and Exceptions to Anti-Affiliation Statutes
THE RIGHTS OF STATES TO GRANT INSURANCE POWERS TO THEIR BANKS
State Banks and the Fed
State Banks and the FDIC
Historic State Bank Insurance Sales Activities
STATE ANNUITY AND INSURANCE POWERS IN 1994 BEFORE VALIC AND BARNETT
1994 - THE LITTLE BANG
1995 AND 1996 - THE BIG BANG: VALIC AND BARNETT
1995 - The Impact of the VALIC Decision on State Laws
1996 - The Impact of the Barnett Decision on State Laws
1997 and 1998 - Their Continuing Impact on State Laws
CURRENT STATUS OF STATE BANK INSURANCE POWERS
CHAPTER 4: FEDERAL BANK INSURANCE COMPLIANCE GUIDELINES
EXISTING FEDERAL LAW AND BANK INSURANCE PRACTICES
Illegal Coercive Tying and Permissible Product Packaging
FRB Revisions of Tying Provisions
The OCC and Coercive Tying
Plenty of Protection
Bank Insurance Is Safe and Sound
Banks Do Not Engage in Coercive Tying
Many Consumers Want Alternative Choices When Buying Insurance
THE INTERAGENCY STATEMENT ON RETAIL SALES OF NONDEPOSIT INVESTMENT PRODUCTS – ANNUITY AND MUTUAL FUNDS SALES GUIDELINES
Background to the Interagency Statement: The Bank Market for Nondeposit Investment Products
Interagency Statement on Retail Sales of Nondeposit Investment Products
Adoption of Policies and Procedures
General Guidelines of Joint Statement
Disclosures and Advertising
Setting and Circumstances
Qualifications and Training
Customer/Product Suitability and Sales Practices
Compensation
Compliance
Regulators' Examination Procedures
Additional Guidance
OCC ADVISORY LETTER 96-8 – INSURANCE SALES GUIDELINES
Federal Prohibitions on Tying
Sales of Insurance in Connection with Extending a Loan
Applicability of State Laws
Management Oversight
Evaluation and Selection of Products
Qualifications and Training
Inappropriate Recommendations or Sales
Employee Compensation
Complaints and Compliance
Advertising
Customer Privacy
Third-party Arrangements
Setting and Circumstances of Insurance Sales Activities and Specific Disclosures
Annuities and Investment Product Sales
OCC Supervision
OCC INTERPRETIVE LETTER 753 – THE FIRST UNION APPROVAL LETTER
The OCC's Analysis – 5 Parts
The OCC's Conclusions regarding §92 and Its Legislative History
The OCC Asks, and Answers, Two Questions
The OCC's General Principles for Insurance Agency Activities under §92
First Principle: Bona Fide Agency in Place of 5,000
Second Principle: Equal Rights with Nonbank Agency Outside Place of 5,000
MORE FEDERAL BANK INSURANCE REGULATIONS TO COME?
Expanding the Scope of the Interagency Statement?
Increased Focus on Compliance and Audit Controls Relative to the Interagency Statement?
Treating Cash Value Life Insurance as an Investment under the Interagency Statement?
E Pluribus Unum – Many Forms of Life Insurance from One Type
CHAPTER 5: THE BANK ANNUITY AND LIFE INSURANCE MARKETS
THE BANK ANNUITY MARKET
Consumer Attitudes and Purchases in the Annuity Marketplace
Brief History of Bank Annuity Sales
One Method of Benchmarking Sales Performance: Deposit-Penetration Ratio
Opportunity Abounds
GROWING BANK INTEREST IN LIFE INSURANCE
Annuities
Mortality Products
Individual Disability and Health Products
Group Health Insurance
Total Premiums – All Products
Most Big Life Insurers Sell through Banks and Other Financial Institutions
Growing Insurance Company Interest in the Bank Market
UNSERVED AND UNDER-SERVED LIFE INSURANCE MARKETS
40 Percent of All Americans Have No Life Insurance Coverage
A Basic, Unprotected Need of $5 Trillion
Traditional Life Insurance Distribution is Inadequate – Except for the Affluent
35 Percent of Amounts Are Purchased by Those Who Earn $75,000+
The Underclass of Life Insurance
THE STRUCTURAL WEAKNESSES IN THE TRADITIONAL LIFE INSURANCE DISTRIBUTION SYSTEM
Declining Sales
Declining Sales Productivity
Traditional Distribution – Insurers' Greatest Expense
Record Declines in Agent Recruitment and Retention
The Expensive Costs of the High Agent Dropout Rate
Number of NALU Members Declining More Rapidly
An America in Need of Life Insurance
THE CRISIS IN LIFE INSURANCE SUMMARIZED
Bank Insurance Offers Career Agents New Sales Opportunities
CHAPTER 6: SHRINKING BANK MARKETS – WHY BANKS SHOULD SELL BUSINESS INSURANCE
BANKING CORE BUSINESSES IN DECLINE
Deposit Competition
Asset Competition
BANKS NEED TO DIVERSIFY INCOME SOURCES WITH NONINTEREST FEE INCOME
THE POTENTIAL OF THE BUSINESS MARKET
THE POTENTIAL OF BUSINESS-RELATED INSURANCE
The Value Of Key Employees
Protecting Partnerships With Life Insurance
Saving Businesses By Protecting Estates With Instant Liquidity
Strengthening the Bullpen
CHAPTER 7: HOW BANKS SELL INSURANCE
BANK INSURANCE MARKETING PROCESSES
Bank Agency Ownership Structures
Bank Methods of Insurance Distribution
Dedicated Sales Force Versus Part-time Sales Force
Information – The Medium of Exchange
HOW FINANCIAL INSTITUTIONS SELL INSURANCE AND ANNUITIES
Retail Selling, Direct Mail, Telemarketing, and Direct Mail with Telephone Follow-up
Types of Financial Institution Retail Distribution Systems
WHO SELLS WHAT: THE FREQUENCY OF USE OF SALES FORCE TYPES BY PRODUCT LINES
Annuities-Fixed and Variable
Single Premium, Term and Whole Life Products
Universal/Variable Life Products
Disability and Health Insurance
WHICH BANK-OWNED SALES FORCE SELLS THE MOST ANNUITY AND LIFE INSURANCE PREMIUMS?
Registered Representatives
Life Insurance Specialists
Bank Platform Staff
AFTER-SALES SERVICES TO CUSTOMERS—BANKS OR INSURANCE COMPANIES?
RECENT DEVELOPMENTS AND TRENDS IN BANK INSURANCE MARKETING
CHAPTER 8: WHAT WILL IT TAKE FOR BANK INSURANCE TO SUCCEED IN THE UNITED STATES? – STRATEGIC EVALUATION AND PLANNING
"INSURANCE.COM" – A CLUE
"SBLI" – "Successful Bank Life Insurance" Program
BANK MARKETING ADVANTAGES/OPPORTUNITIES OVER THE COMPETITION
THE PRIMARY OBJECTIVE OF STRATEGIC PLANNING
Market Entry Strategies
How Not to Approach Strategic Planning for Bank Insurance Programs
Preparing to Evaluate a Bank's Insurance Opportunities
THE STEPS TO EVALUATING STRATEGIC INSURANCE DIVERSIFICATION
Define the Bank's Objectives and Determine Its Value Proposition(s)
Identify the Bank's Capabilities, Competencies and Customer Possibilities
Conduct an Economic Assessment of the Opportunities for Selling Insurance
Develop a Strategic Plan
Effectively Implementing a Bank Insurance Strategy
In a Long-Term Business, Patience is a Necessary Virtue
THE ONE-WORD SECRET FOR SUCCESS
CHAPTER 9: CONDUCTING AN ECONOMIC ASSESSMENT OF A BANK'S OPPORTUNITIES FOR SELLING INSURANCE
PROJECT MISSION AND AUTHORITY
BANK PROFILE
ABC Bank Retail Customers
ABC Bank Commercial Customers
PURPOSE OF THE ECONOMIC ASSESSMENT REPORT
NATURE AND CONTENT OF THE ECONOMIC ASSESSMENT REPORT
INSURANCE ASSUMPTIONS
Personal Lines – Automobile and Homeowner Insurance
Ordinary Life Insurance and Cash Accumulation Products
Costs and Profit Margins
Bank's Corporate Insurance
Commercial Client P&C Insurance
Business Life Insurance
THE ECONOMIC ASSESSMENT
Direct-Marketed Insurance Products
Retail Selling of Personal Lines Insurance Products Via P&C Agency
Retail Agency for Ordinary Life Insurance and Cash Accumulation Products
Bank's Corporate Insurance
Commercial Client P&C and Business Life Insurance
SUMMARY OF FINANCIAL FINDINGS OF ECONOMIC ASSESSMENT OF OPPORTUNITIES IN INSURANCE
Financial Summary by Product Line
Aggregate Financial Summary
CHAPTER 10: BANK REQUESTS FOR PROPOSALS (RFPs)
BIRTH OF THE BANK RFP
The Purpose of a Bank RFP
A Bank's Use of an RFP
What Good RFPs Should Do—Separate Wheat from Chaff
RFP Layout
Distributing RFPs
Finalist Interviews
RFP CONTENT – QUESTIONS ABOUT MARKETERS AND INSURANCE COMPANIES
Questions for Bank Insurance Marketers in General
Questions for Insurance Companies in Particular
Market Conduct Record
RFP CONTENT—QUESTIONS ABOUT PRODUCTS AND SERVICES
Annuity Products
Personal Lines Products – Automobile and Homeowners Insurance
Life Insurance Products
Strategic Plan Development Process for Direct-Marketed Insurance
Financial Projections
Compensation
Marketing and Sales Support
Training Support
New Business – Underwriting and Policy Issue Operation
Customer Service Quality Profile
Business Reports
Technology Support
Beyond the Basic RFP Process – Vendor Business Plans
CHAPTER 11: RESPONDING TO BANK RFPs
THE IMPORTANCE OF RFPs IN SELECTING INSURANCE PROVIDERS
Protecting the Bank-Customer Relationship
Standards Lead to More Standardized Information-Requests
Developments in Bank Compliance Guidelines and Regulations
The Special Influence of the Federal Banking Regulators' Interagency
Statement and the OCC's Advisory Letter 96-8
Oversight Responsibility of an Insurance Program
Duties in Evaluating Insurance Companies, Products and Vendors
THE IMPORTANCE OF A VENDOR'S RESPONSE TO BANK RFPs
Competitive Differentiation in a Commodity-like Market
An Increase in Direct Bank-Insurer Relationships
The Relative Importance of Personal Relationships to the RFP-Evaluation Process
Thoughts on the "Mass-Marketing" of a Bank's RFP
IMPROVING VENDOR PROPOSALS AND RESPONSES TO BANK RFPs
Declining to Respond to an RFP
Submitting the Proposal or Response to a Bank's RFP
Formatting the Proposal
Writing the Proposal or Response to a Bank's RFP
Organizing and Highlighting Important Proposal Content
Responding to Bank RFP Questions
Selling the Bank during the RFP Process
Lessons from the RFP Process
Improving the Management and Monitoring of the RFP-Response Process
Establishing a System for Managing the RFP-Response Process
CHAPTER 12: INTEGRATING INSURANCE IN A BANKING OPERATION
OBSTACLES TO INTEGRATING INSURANCE
Culture Clash
Product- and Distribution-Driven Mentalities
The Question is Less about Culture and More about Customers
Resistance to Sales Culture and Sales Management
IMPORTANT PLANNING ELEMENTS FOR INTEGRATING INSURANCE
An Insurance Sales Force Still Has the Greatest Potential
Hiring Insurance Specialists
Integrated Sales Culture or Integrated Sales Force?
Integrated Reporting Structure for Investments and Insurance
Concrete Sales Goals
Active Management Support
Broad Institutional Support
Active Branch Support
Employee Education and Training
Extensive Channels of Communication
Adequate Investment
Integrating Property and Casualty Insurance Sales Activities
Schedule of Processes, Production Reports and Reporting Procedures
Mutual Respect and Trust
CHAPTER 13: UNBUNDLING AND DESEGREGATION IN FINANCIAL SERVICES
MUTUAL FUNDS – HEIGHTENED FINANCIAL SERVICES COMPETITION
Share of Total United States Financial Assets
Household Ownership of Mutual Funds
The Role of Retirement Savings
The Median Amount of Mutual Funds Held by Families
Growth in Assets and Number of Mutual Funds
Flow of Funds Accounts – Assets of Households
Percent of Total Family Financial Assets
Total Assets of Major Financial Institutions
Bank Sales of Mutual Funds
A Symptom of the Present, A Diagnosis for the Future
UNBUNDLED CUSTOMER BASE: "SHE'S COME UNDONE"
Unbundling in Financial Services
Desegregation in Financial Services
Universal Life – Unbundling Product Features and Pricing
Money Market Funds – Unbundling Depositor, Borrower, and Payments Delivery System
Technological Unbundling and the "Financial Services Industry"
Securitization – Unbundling Functions
Unbundling the Quality of Life
Life and Health Insurance – The Unbundling Process Continues
Unbundling Markets, Distributors and Customers
PREPARING FOR THE UNBUNDLED AND DESEGREGATED FUTURE IN FINANCIAL SERVICES
Focus on and Serve Clients
Obtain Information to Understand Clients
Differentiate Distribution
Employ Technology Wisely
Value the Value of People
Selling Versus Marketing
Variation of the Individual, Individuation of Variety
APPENDIX A: REGULATORS
FEDERAL BANKING REGULATORS
STATE BANKING REGULATORS
STATE INSURANCE REGULATORS
APPENDIX B: TRADE ASSOCIATIONS
BANK-RELATED TRADE ASSOCIATIONS
AGENT-RELATED TRADE ASSOCIATIONS
INSURANCE COMPANY-RELATED TRADE ASSOCIATIONS
APPENDIX C: EDUCATION AND TRAINING RESOURCES
BANKING EDUCATION/TRAINING RESOURCES
INSURANCE EDUCATION/TRAINING RESOURCES
APPENDIX D: PUBLICATIONS
BANKING PUBLICATIONS
INSURANCE PUBLICATIONS
APPENDIX E: PUBLICATIONS
BANK STATISTICAL DIRECTORIES
INSURANCE STATISTICAL DIRECTORIES
INDEX