When banks start to think about entering the bank insurance marketplace, the first question they often ask is, "What other banks have done this, and how well have they done?"
That question is hard to answer since the bank insurance marketplace is still in its infancy. However, the bank annuity marketplace was in the same infant stage a dozen years ago, and its annual sales have quadrupled in the past decade to a record $48.1 billion in 2002.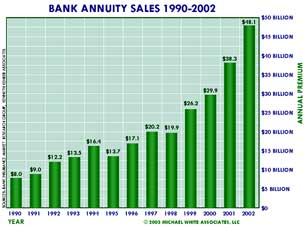 (Click on the graph to enlarge.)

From 1990 through 2002, banks and thrifts comprised the fastest growing annuity distribution system in the country, selling $272.5 billion in annuity premium and generating approximately $16.3 billion in annual sales revenue. That is with only one-fifth of banks and thrifts participating in the bank annuity marketplace. So, opportunity for bank annuity sales remains enormous.
The success of bank annuity sales offers a glimpse of the future for banks entering the bank insurance marketplace.