Chances are, an amazing number of
your bank customers need life insurance.
Over 47 percent of all Americans – at least 122 million people – have NO life insurance coverage.
This basic unmet life insurance need was estimated to be $5 trillion several years ago, and the number of uninsured people and households has only grown.
Fifty-two percent of all households and 64 percent of all persons (47 million households and 166 million people) have no individual life insurance coverage. Half of all households and two-thirds of individuals have no group life insurance protection.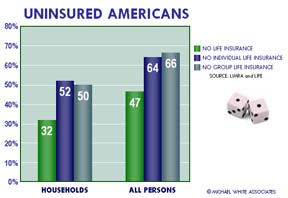 (Click on the graph to enlarge.)

Furthermore, at least 80 percent of Americans who are insured are dramatically UNDER-insured.1
Households with life insurance coverage have far less coverage than they need. The median amount for all adults is just $30,000.

All this spells
G-R-E-A-T P-O-T-E-N-T-I-A-L
for bank life insurance sales.
1 "...$230,000 [is the] minimum per household average many [life] insurance consultants recommend." See Stephen Advokat, "The Facts of Life," The Detroit News & Free Press, July 3, 1994, page J1+. Only 16 percent of all adults have total life insurance coverage of $150,000 or more.